A BRIGHT YELLOW TENT ON THE COLOMBIAN BORDER BRINGS HOPE TO VENEZUELANS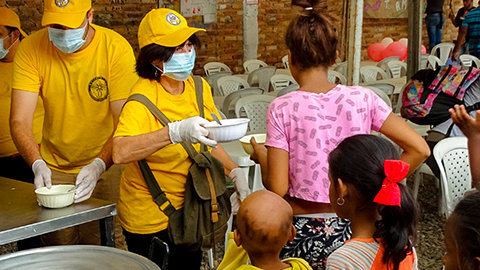 Scientology Volunteer Ministers are working with churches, relief agencies and other nonprofits in Cúcuta, Colombia, to help refugees from Venezuela.
---
The Volunteer Ministers program was launched more than 30 years ago, in response to an appeal by Scientology Founder L. Ron Hubbard.
Noting a tremendous downturn in the level of ethics and morality in society, and a consequent increase in drugs and crime, Mr. Hubbard wrote, "If one does not like the crime, cruelty, injustice and violence of this society, he can do something about it. He can become a VOLUNTEER MINISTER and help civilize it, bring it conscience and kindness and love and freedom from travail by instilling into it trust, decency, honesty and tolerance." Learn More >>
---
Scientology offers practical solutions to help you improve conditions in your life and the lives of those around you. All the practical techniques used by Volunteer Ministers are drawn from the chapters of The Scientology Handbook. Combined, these chapters provide all the tools you need to confront and resolve virtually any life situation: from resolving marital strife to recovering a friend from drugs and managing a company for optimum success.Learn More >>
---
The people in your group, organization or community encounter real situations in their day-to-day living—among them, illiteracy, drug abuse, broken marriages and dishonesty. Without solutions to these problems, the work of organizational leaders and community leaders may be less effective than it could and should be.
---
In 1973, Founder of Dianetics and Scientology L. Ron Hubbard conducted a sociological study in New York City and discovered a society that had dramatically worsened from the city he remembered years before. From this study he predicted where the culture was headed: rampant immorality, violence as sport, and ultimately, politics by terrorism.
Needed was a way to help others live their lives and build their futures. In answer, Mr. Hubbard drew the plans for a grassroots movement, one that would instill these values back into society and so halt the decline: the Scientology Volunteer Ministers Program.